Linn Together Bottle Tagging Campaign
"If they can't buy it, don't supply it" is a helpful point-of-sale reminder to customers not to provide alcohol to minors. The Linn Together Bottle Tagging Campaign is a collaborative effort with local retailers to provide that reminder. Linn Together volunteers place tags on bottles of alcohol and decals on coolers reminding customers that preventing underage drinking is everyone's responsibility. For more information on the Bottle Tagging Campaign, email info@linntogether.org.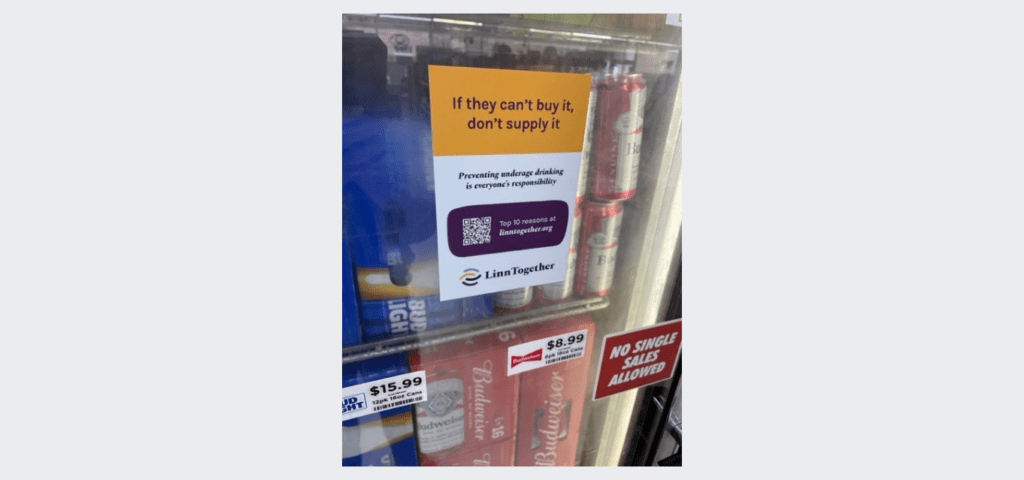 Linn Together would like to thank the following retailers for participating in Linn Together's 2022-23 Bottle Tagging Campaign:
Albany:
7-11, 300 Queen Ave SE
7-11, 222 Main St SE
7-11, 1815 Queen Ave SE
7-11 , 333 34th Ave SE
7-11, 6190 Pacific Hwy SW
Albany Food Market. 3135 Santiam Hwy
ARCO AM/PM. 33200 SE HWY 34
Center Market. 4050 Old Salem Rd NE
Circle K, 36685 Hwy 99E
Cottonwoods Market, 35867 Know Butte Rd
Dari Mart , 1005 w Queen Ave
Dari Mart. 105 Clover Ridge Rd
Fast Break Market. 1203 Century Dr NE
Geary St Market. 2805 Geary St
GPS Market. 1655 Queen Ave SW
HWY 34 Market. 33166 Hwy 34 SE
Jack's Truck Stop (Hwy 20 Truck Stop). 4196 Santiam Hwy SE
Loves Travel Stop. 6457 Old Salem Rd NE
Stop and Save. 423 SW 2nd
Tri Valley Food Market. 2703 Santiam HWY SE
US Market. 2211 Waverly Dr
West Albany Towne Pump. 522 Pacific Blvd SW
Stop n Save. 1737 Salem Ave SE
Tom Tom Deli & Market. 321 Airport RD SE
U.S. Market. 1709 Hill St
U.S. Market . 1012 34th Ave SE
Brownsville:
Jerry's Gas & Food Mart, 203 E Bishop Way
Halsey:
7 Star Convenience Store, 360 W 2nd St
Halsey Shell, 32980 Hwy 228
Harrisburg:
American Market, 103 S 3rd
EZ Stop Market & Deli, 190 N 3rd St
Harrisburg Station Eagle Mart, 309 N 3rd St
Harrisburg Liquor, 230 N 3rd St #102
Lebanon:
7-Eleven, 1490 Main St
7th ST Mart, 590 Tangent St
Crowfoot Grocery, 115 Central Ave
Chevron Food Mart, 805 Park St
Knot Hole Market, 2412 S Santiam Hwy
Lebanon Market, 1695 S Main St
Oregon Mini Mart, 2684 S Santiam Hwy
US Mini Mart, 290 W Oak St
US Mini Mart. 2010 Stoltz Hill Rd
River Park Market, N. Main St
Mill City:
7-Star Conv. Store, 829 SW 1st
7-Eleven, 200 NW Santiam Blvd
Stop n Save, 250 NW 9th Ave
Scio:
Stop N Save, 38777 N Main St
West Scio Grocery & Deli. 38152 Jefferson-Scio Dr.
Sweet Home:
Speedee Mart, 1601 Main St.